Hey everyone!
Today we're starting a new art contest that will end the 18th of June. Read more below! 🙂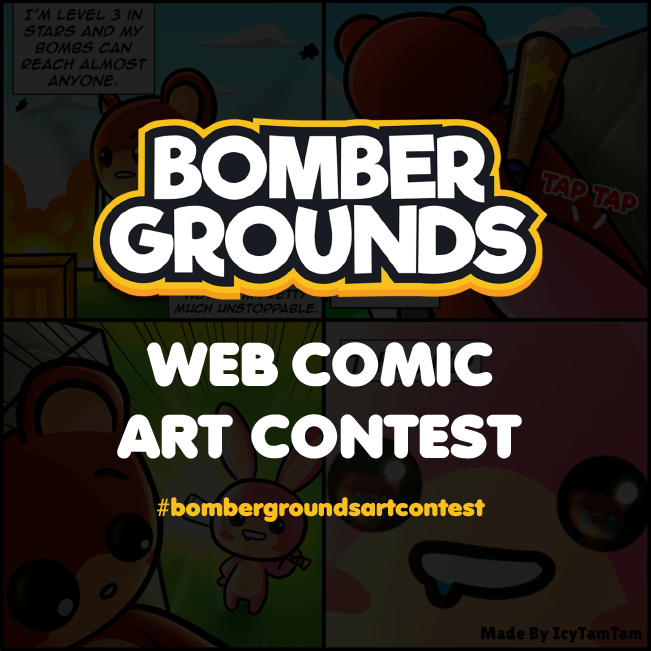 THE BOMBERGROUNDS WEB COMIC ART CONTEST
Draw Art for Bombergrounds using the theme provided for a chance to win Bombergrounds Gems.
THEME
Create a Bombergrounds Web Comic, and win prizes!
PRIZES
1st place: 1000 Gems
2nd place: 600 Gems
3rd place: 300 Gems
4th & 5th place: 180 Gems
Gems can be spent in Bombergrounds: Battle Royale to unlock cosmetics including emojis, faces and much more.
HOW TO ENTER
Submit the art on Instagram or Twitter and tag us with @Bombergrounds and include the tag #bombergroundsartcontest.
You can enter the contest more than once.
IMPORTANT
The art may be used for future implementation of a skin into the game.
The art may be reposted to our social media accounts.
4 Comic squares maximum
The Deadline is on Saturday 18th June 2020 at 00:00 CET (2 weeks).
After the judges have decided the winners, you will be contacted through your Discord,Twitter or Instagram DMs so you can receive your prize. You must create a Bombergrounds account linked with a Gigantic Duck ID within 7 days of winning, otherwise your winnings will be forfeited.
Good Luck!
COMIC EXAMPLE: