Hello Ducklings!
We're patching the game to version 0.8.7 of Bombergrounds: Battle Royale.
This patch adds The Artist Battle Pass (Season 1), The Artist Chest along with an entirely new map & soundtrack, "Candy Land".
Please read through the patch notes to get a better understanding of what we have changed since last patch.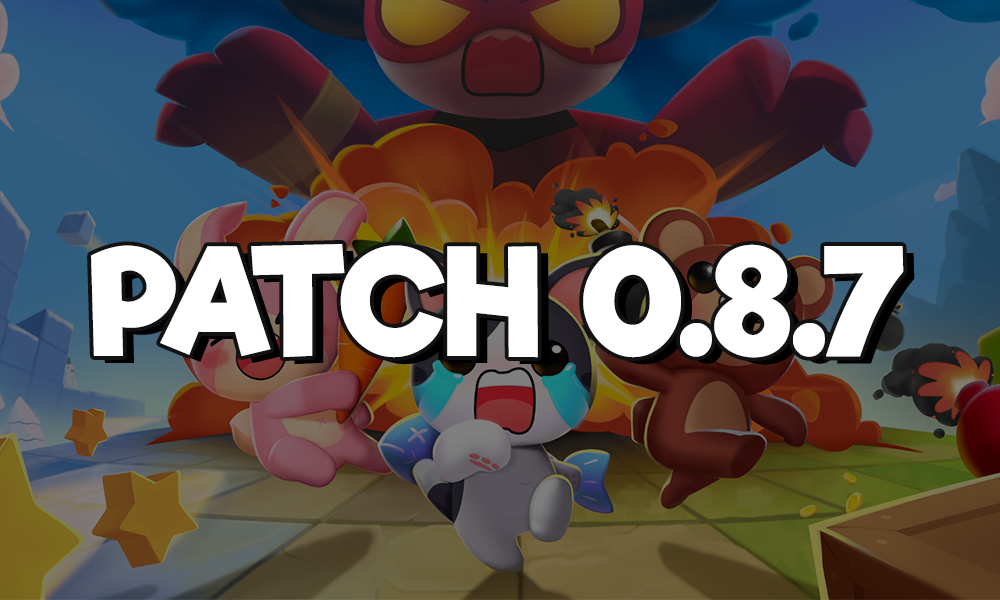 Patch delivery & details
Details
Previous live version: 0.8.6 (all platforms)
Updates to: 0.8.7 (all platforms)
Delivery date/time
We are going to patch immediately.
Downtime expected
15-90 minutes depending on difficulties.
Patch notes
New features
Battle Pass: Season 1
New Lootbox: Artist Lootbox
New Map: Candy Land
New Soundtrack: Candy Land theme
A total of 8 new sets of skins will be added this patch, along with emojis, faces and more which will be attainable through various functions of the in-game store, battle pass and lootboxes.
The Battle Pass will be sold for 200 gems. The Battle Pass includes 30 levels of progress, and fulfilling these reward tiers gives you exclusive never-to-be-seen-again loot!
Balance changes
Melee – Raised melee stun/hit range by 0.15.

Melee – Changed hit area from rectangle to cone, only front attack.
Game Server changes
Bugfix – Water bomb bug has been fixed.

Bugfix – Timestep issue on bombs has been fixed, which made some bombs explode on another square on the server than the client shows (also known as: "the bomb exploded on the wrong block" or "invislbe explosion" bug).

Various hack-prevention changes. For game integrity reasons we will not disclose exactly what was fixed.
Client changes
Performance – Better bomb pooling, the game should now be FPS-stuttering less in-game on all devices.

UI – Small changes to existing UI.

Graphics – Added Battle Pass info popup, and info-screen.

Graphics – Added Battle Pass screen.
Region changes
Content Creator changes
No content creator changes.